Sina Elite League Tour 2019 to launch its first stop in Hong Kong
2019-04-29 09:30:53 GMT
2019-04-29 17:30:53(Beijing Time)
Sina English
April 29, 2019 – After the successful event held last December in Beijing, the Sina Elite League (SEL) is taking another major step forward by launching Sina Elite League Tour 2019 - Hong Kong as the first stop of SEL Tour this year. The event will kick off at Central Harbourfront Event Space in Central, Hong Kong from 5/4 to 5/5. All winners from the SEL Tour stops will be invited to participate in Sina Elite League 2019, the top-level international tournament currently slated for November 2019 in Beijing.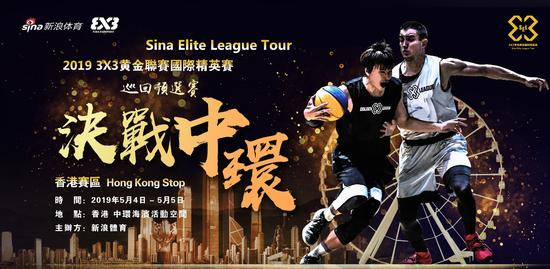 The event will be played over two weekends, the last weekend of April and the first weekend of May. The final weekend will feature Inanomo, the runner-ups of SEL 2018 from Russia and many iconic Hong Kong basketball players such as Zheng Jinhui and Liang Jiaxian from Hong Kong Basketball League, representing the highest level of Hong Kong basketball.
Hong Kong Cable Television will serve its media partner to live broadcast the entire event. Sina Sports and Weibo will be streaming the event across 10 Chinese digital platforms. The event will be played at the new and exciting Central Harbourfront Event Space, which makes the most of its location on the harbour front of Hong Kong Island – nestled between the craggy hills and soaring skyscrapers of the Central business district on one side, and the bustle of the busy harbour on the other.
SEL 2018 generated over 370 million topic views on Weibo. It was broadcast live in 35 territories, including all countries where participating teams' are from: beIN Sports Asia Pacific and Middle East (Townsville, Hong Kong, the United Arab Emirates), Fox Sports Asia Digital (Taipei), Solar TV (Manila), SPO TV (Seoul). Additionally, SEL was streamed live on the Sina Sports official Facebook page, Twitter and Weibo accounts, covering Asia, North America and Europe regions.
About Sina Sports
Sina Sports is the #1 destination for sports fans in China. Established in 1998, Sina Sports was the first ever online sports platform in China, offering fans a diversified platform to access the sports news and games they care about, including a website (sports.sina.com.cn) and the Sina Sports mobile app.
Since 2015, Sina Sports has expanded its business to create its own offline sporting events including Asia's largest FIBA-certified Sina 3X3 Golden League basketball tournament and Sina 5X5 Golden League which is the leading futsal tournament in China. The growing portfolio of events also includes Sina Cup Junior Ice Hockey Competition, Sina Future Star Equestrian Competition, Sina Cup Alpine Skiing, and Sina China Bodybuilding and Fitness Competition.
PR Contact:
Roger Zhang | +86 13701251185
yichi3@staff.sina.com.cn